Free Airport Shuttle
Airport Transfers
We offer a free airport shuttle service between 07h00 – 16h30, 7 days a week
Please inform us 7 days prior to your arrival the exact date and time of your arrival, including your flight number and the number of persons traveling, so that we can meet you at the airport upon arrival. We will transfer you to our office in Windhoek to pick up your vehicle or take you to your accommodation in Windhoek. These transfers from and to the airport are free of charge.
Please note that our free shuttle service operates on a fixed time schedule and route. This free service runs from 7h00, (earliest departure from Autovermietung Savanna office) till 16h30 (latest departure from Autovermietung Savanna office). Please note, that our driver will depart from the airport 90 minutes after the scheduled landing of your flight. In case you arrive in Windhoek after 16h15, you will only be able to pick up your vehicle the next day.
The Airport Company legally forbids vehicle pick-ups and drop-offs at the International Airport. It is only possible to pick up the vehicle the next day when arriving with a flight later than 14h20.
Our driver will wait for you at the airport holding a WELCOME SHEET with the surname/family Name under which the vehicle was booked.Please look out for this Sheet to avoid any confusions and delays. It is also important to inform our driver should you have any lost luggage or delay of any kind.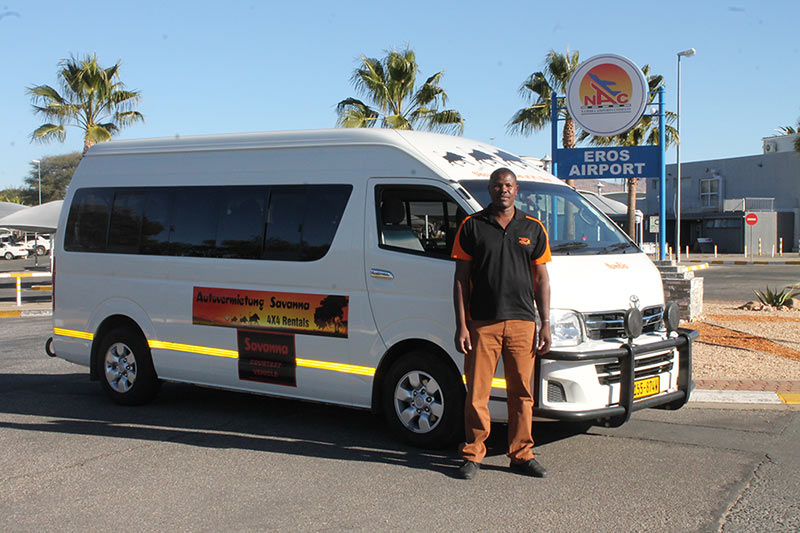 The renter must contact Autovermietung Savanna should any flight be delayed or cancelled.
Luggage: We recommend you travel with soft bags to store your luggage. Hard-shell cases may be difficult or even impossible to fit in some vehicles. The suitcases you don't need on your trip can be stored at our office at your own risk.